Diagnosis a True Beginning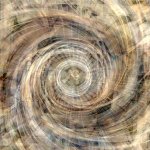 Mon, 25 Apr 2016
1 likes
I remember the look on my face 

as it melted and slid like The Scream 

to a puddle about my shocked toes off the floor.



And in that cracked second I witnessed my birth,

the whole of two marriages, three babies 

sprung out of my arms, four languages 

I'd never learn, musical instruments

I'd never heard of, let alone played,



our retirement, ten holidays 

we wouldn't book, and couldn't 

afford, and my funeral - me 



at the front in a box, and sat at the back observing 

the tears and hearing kind words about someone 

more helpful, less hopeless than I'd ever been - 

learnt things about me I'd never imagined, 

and with a touch to my shoulder, sprung back 



to the moment, said, 'What will I tell them, 

they're gonna be broken. Sorry, 

so sorry. This is my fault!' Then I laughed



cos it couldn't be true, and gasped, cos it was -

but it wasn't 

the end of the story...