Today We Dressed Up And Pretended To Be Rich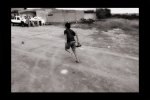 Thu, 26 May 2016
Today we dressed up
and pretended to be rich
held a mirror, cracked and splintered,
ran the last drop of oil through each
   matted hair
laid hogs' eyes in a bowl,
threaded them to pearls
rubbed chalk dust on our grandmother's cheeks
dabbed vinegar behind her ear
folded tissue, yellow, (thin as it was)
in our father's top pocket,
admired a man whose handkerchief
is woven of gold.
Our brother drew arabesques
on old sodden boots,
transformed them with a gutting knife
into lush fancy brogues.
Our sister made a crown
of driftwood and spent card
wore a bridal gown of untreated leather
teamed with a supermarket bag.
And we climbed aboard a cart that day,
journeyed like royals along the smog-swirl streets.
Our neighbours lined the pavement, cheered:
"They are rich! They are rich! God bless them,
they are rich!"
And we waved, heads high, threw
broken stems and brittle grass for all
their children's pleasure.
But our youngest sister cried
her wealth too much to bear
because all the money in the world
she had been told can not buy
   contentment.
And the neighbours who once cheered
now laughed at her tears.
"Please, do not mock her" I shouted.
"Our sister will always be rich
   in love".
And as I said these things she knelt
at the pavement's edge, wiped her ruby eyes,
found an end of bread, discarded,
a fallen bird which she fashioned
into sweetmeats fit for
   a queen.