Fishing Dreams by the Spree- Part 2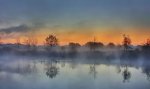 Tue, 21 Jun 2016
Otto completely ignored my cheeky attitude, the expression on his long face dead serious.
"Because you already know where your dream is. You don't need me for that. How hadn't I seen it before? When a person, like you, creates entire worlds in their head; a collection of alternative realities to all those should-have-been moments and events; when that person's imagination forces them to constantly form stories, there is no escape. It can only mean one thing — you are a writer, Grace." The bubble's halo reflected in Otto's eyes, or was it the summer moon, which suddenly seemed bigger and much brighter?
"What? How do you know these things about me? Seriously?"
"I have a pair of good eyes and good ears."
"Yeah, that's it. For your information, not every person who writes nonsense and calls it 'short stories', can be considered a writer."
"Yes, you are right, Grace. But it doesn't change the fact that you're a writer." Otto walked back to the water, brought his face closer to the hooked glowing bubble, and released it in the river.
"What are you doing?" I asked. Did I actually start believing all of this was happening?
"This isn't my dream. I can't hold on to it. I simply told it how to find its home." Otto bent over, placing the rod on the ground, and stood at my side.
"And what's your dream, Otto? A dream expert like you must have at least one," I said, winking at him.
"This is, I'm living it. Finding lost dreams."
**************************************************************************************************************
It was nearly 11 p.m. but Otto was a no show. If it were any other person, I'd be furious, but not with Otto. I closed my eyes and enjoyed the warm summer air and the distant scent of blooming flowers. That night, three years ago, Otto and I made a pact: we will meet each year, on the same July night, and catch dreams together. It was my idea. I couldn't bear the thought of never seeing him again, so I settled for once a year. Otto claimed that his work was done and there was no need for us to stay in touch. He had a busy schedule that had kept him away from his Berlin throughout most of the year. But we are more than that, I told him. We are friends. We are the best of friends. I ignored his hatred for ceremonies and anniversaries — why do people need an anniversary for just about everything? I don't understand it — and created our very own anniversary. Fishing together and talking about anything and everything. Berlin was no longer a stranger. I was no longer a stranger.
Photo credits: https://pixabay.com/en/landscape-fog-water-river-1272748/