Her Secret Face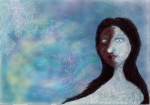 Tue, 12 Jul 2016
She let's you see her secret face,
She more inflicts it on you.
She tutors you in its intricacies,
Patterns, pitfalls, perfections.
Unwraps it from beneath its creamy-finish lace,
sugar-sodden, soft;
Winding away to reveal raw detail;
Wet, unfinished, promisory.
#
She tortures you, really
Showing one face, hiding behind it,
Revealing the other.
The faces she offers you are slippery, slick;
One mixed up inside the other;
Almost, almost you can tell them apart.
#
Smoke and mirrors.
Are you coming or going?
She makes a nest for you in the dark somewhere,
But it's a nest of hot coals.
And slowly, slowly, slowly her faces come into the light.
A stranger's face;
Nothing familiar. No landmarks. No anchor.
No place in it that you might call home.
Across the candle-flame, Beauty bears her teeth.