Many Me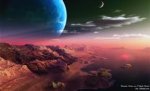 Wed, 17 Aug 2016
Many Me
I lay in the pit-black darkness and dreamed of another me.  Free from the distraction of light and vision, my brain made it's own light and began to float away.
I paused for a moment and belly-laughed at the musings of man.  The Cosmos explained, the Multiverse, the Big Bang and are we only dreaming.  Have you ever tried to carry moonbeams home in a jar?  Have you ever tried to live pause a magnificent sunset or peer beyond the twinkling stars? 
We live and die by the tick-tock of the clock. Each has a beginning and an end. Yet in a finite existence we live in an immortal universe and one we will never truly understand.  In that pit-black darkness I made contact with another me.  He too was wondering if I existed.  He is one of the countless me's who did something slightly different.  Only this one got it right.  He never said that wrong word or failed to lend a hand.  He always hit the spot and soared to heaven without putting a foot wrong.
In a time that paralleled mine yet another turned out wrong.  He followed every distracting path and ended up a broken man.  His life full of unfulfilled promise; an empty tapestry never used.  Each gift of living carefully stored away for fear of it being worn, lost or soiled; only to be forgotten and never used.
In that darkness I made a conference of souls… each one an alternate me.  Not one of us had the answer to the perfect me.  Why?  Simple really.  My rules, my world don't apply anywhere else.  In that conference of souls each stood shaking heads in disbelief.  Some with pity, some with rage, some with envy…the list goes on.  Not one stood king of the hill.
An endless, infinite gathering of one.  A conference doomed to go on beyond eternity and never calling time.