Chet and the Prisoners - 9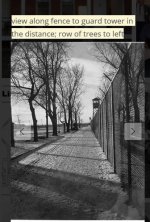 Tue, 18 Oct 2016
Chet
March 25
Toyo is all aflutter about how disorganized it will be, when the next bunch of internees come in.
We are well over the 1000 bed capacity for the Japs which was planned. Apparently they are busy turning one of the admin buildings into extra sleeping quarters and whenever the weather permits they are out trying to put up more of those pre-fab shoddy huts. I had to laugh because that is what we would call "Jerry built." And now the Jerrys and Japs will find out what happens when you build something in a sub-standard way.
The big excitement at the camp today is the start of the softball season. Both groups of internees are involved, but the Japanese who have a history with the sport are leading the way in setting out the diamond. I really enjoy the sport, and plan to be around to watch at least a part of a game each week.
As I was sitting in the makeshift bleachers today, I made the acquaintance of a few of the Germans. So far I have only seen them on the occasions when they come to the infirmary and haven't made friends with any, but I really like these two guys. Let me tell you about them. They both arrived here back in November of last year, when the Germans were the only ones here and there were only a relatively small bunch. Apparently they call the camp "Friedrichsruh" after the home of the German Chancellor Otto Von Bismarck.
Kurt (who in in hut T94) is one of the leaders within their group, and speaks very good English. He said it was his pal Alfred Henzler who was responsible for getting the softball season going. I got him to tell me what things were like here last year, before the Japs arrived.
He said several of their bunch tried to escape almost straight away. A bunch of them had gone to the hospital for dental work and a guy called Erich managed to escape while the others were being seen to. He was captured later on a road loading South towards the Missouri. Probably that was the same road that our prisoners who work on the Prison Farm use. Anyway, he was captured within two hours.
Then in November two other guys tried it who were trustees so permitted to work outside the compound. They were just kids – Gottfried was 17 and had been a mess boy on a ship and Bernard was 21, an ordinary seaman. Apparently, at the supply office where they worked they had been threatened with violence by the Nazi group within the compound who felt they were fraternizing with the enemy. So they made their plans to escape and they started walking east, and were picked up by a farmer who let them off near the Pen. Then they started walking eastward again along the railroad tracks, hiding in haystacks during the daylight hours. They managed to get the 20 miles or so to Mackenzie, and went into a little restaurant for a meal but our local radio station KFYR had broadcast for people to be on the lookout for the runaways. The two boys innocently sat their with the owners, eating hotdogs and drinking coffee and made their plans on how to get to Mexico. But the owners had alerted the police, and they were recaptured before they got out of the restaurant.
According to Kurt, because of all these escapes, the guy who had been the big boss at the detention center, A.S. Hudson, was soon replaced as Officer in Charge with Mr. I P, "Ike" McCoy, who these guys find much more easy going and friendly. Kurt said he had hated Hudson because he had advised against his getting released. Ike on the other hand is tall, likeable and chews snuff. What was there not to like?
"So how's the food?" I asked.
"Not bad," said Kurt. "Each person is allowed one cup of coffee and 5.125 pounds of food per day. A typical menu might have fried eggs with bacon and cooked oatmeal for breakfast; pea soup, sauerkraut with potatoes and pork, and apricot dessert for lunch; and meat loaf with creamy mashed potatoes and tea for dinner."
"Sounds a lot better than what the Japs get," I said.
"There are a lot more of them, so I suppose the money has got to be divided a lot smaller now."
Tojo
March 25
Finally the weather has warmed enough and the snow is gone at least temporarily, so the men have made a baseball pitch. It is fun to watch them, as the Germans do not know the game at all. They are so determined to do well, and yet their performance is comical. The Japanese team won by an unimpressive score of 7 to 5.
Later that day, Mr. Tsuno trimmed my hair. In the evening we enjoyed a spectacular show of amateur performers who play the harmonica, punctuate their mansai with jokes, or sing and dance the traditional Japanese folk dances. It finished at 9.15 and then in a group we all jointly sing Aikoku Koshin Kyou, and shout three times Banzai (which is a sort of cheer). This is the most emotional experience we have had since we arrived here. Here is a rough translation of the song which is like our national anthem.
Japanese
typical symbols (Rising Sun or Mt. Fuji) and, the pride that Japan
has never been invaded by foreign countries(Kin'omusketsu)
About
the political constitution and the national ideal of Japan: the
absolute authority of her Emperor, and the ideal of universal
brotherhood under him(Hakko-ichiu).
Even
if hard, protect Japanese justice and inherit her history. Long
live Japan and her Emperor!
I bought the first of my purchases from the Sears store. It is a belt for my father. Later We go to watch a movie. It is "Love of Edgar Alan
Poe."
The next night we all go to see another "The Major & The Minor."
It is Mr. Wada's (my father-in-law) turn at pan-washing in the kitchen. However, he is unable to go. Mr. Sumizono offers his services, but I voluntarily replace him and ask him to return to his quarters. I
must admit the feel of the hot water on my hands is very pleasant. At dusk there is a blizzard, which is picking up in momentum.
27 March
We look outside at a howling blizzard. I proceed to the kitchen to wash pots and pans. The weather generates into one of the most savage snow blizzards in 20 years according to the radio news. The heavy snow that swirls about has bogged down the milk delivery van that was en route to our camp. As a result breakfast was served without fresh milk. This set off a wave of unrest and many internees demanded milk. I could hear the distress voices of people outside in the blizzard shouting for help. In a somewhat orderly fashion we resolve the dissension, one aspect at a time. Mr Michihiko Uono is a great help in prevent mass confusion in the mess hall. Braving the biting cold of the blizzard he has moved from barrack to barrack to coordinate meal time hours.
I desire to withdraw $20 from my account, but I am unable to do so without presenting a valid reason. Later I am summoned to the post office and there Mr. Shibata presents an acceptable reason on my behalf for my need of money. I need it to do some shopping. At noon and during the
evening I wash more pots and fulfill Mr. Wada's KP duties. All day long he was playing cards.
In the evening I order some Easter cards. I prepare two Easter cards to send to my family and one each for Messr. Shibata, Iwasaki, Tani, Nakao , Nakmra and Chet and his family. I also send a card for Miss Watkins. I can now write English well enough to do it without help.
March 29
No snow today, but still I do not expect Chet will be able to drive out as the roads will not be clear enough. At night I listen to the news. Despite the nation's preparation to put the economy on a war time footing – Easter vacation is to be extended to two weeks in an effort to save money.
I heard that 2,663 Easter cards have already been mailed from the camp. I wonder how many we will get back.