The Leather-Cloth Wars (Poetry Monthly)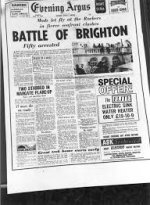 Thu, 10 Nov 2016
On those great days, half-century flown, on the yellowing sea-dust and cackle-stones
by the waving-water, hoards of black-skins with oil-heads arrived mounted on Thunder-horses.
'Vanquish the Roman-pony riders,' went up the great cry.
The challenge was met by swathes of suit-warriors, many were covered with olive-tents.
And henceforth the great leather-cloth wars began.
Many months passed and battles fought in bottom-land villages.
Back and forth the advantage swayed while the saga-writers
saw all and more, telling stories of snake-bite spilled in gallons on the walking-ways.
But the Wig-Gods looked down and were alarmed and sent blue-angels to protect the surf-folks.
In the three-score years the veal-fleshed armies were divided and conquered.
But the legend of the leather-cloth wars lives on!
Relived and embellished in the pages the great saga-writers: Fire-Ball and Double-You.
Over time peace prevailed and the aging leaders of the great armies held a "Thing."
The hallowed halls of the Bloody-Cat destined to be the home of the "Great-Moot."
Reading-Tony; Czar of the suit-warriors arrived, carried on the wings of a silver Stuttgart-eagle.
Mythical-Mick-the-Mad; leader of the black-skins was transported in a black folk-horse.
What passed at the Thing is unknown, but many brown-shells of Belgian-starfish lay empty.