An Oft Repeated Mall ?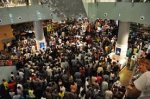 Thu, 29 Dec 2016
An Oft Repeated Mall
Surging, urgent, a frantic microcosm sweeps along the Mall.
A human tsunami of credit-swollen want;
Devouring, this unnecessary greed
Indiscriminately numbs the simple soul.
Crowded, pinball-driven this relentless tide
Swallows any timid soul in it's path
Like crowded lab rats scurrying for scaps.
Slaves, bonded to spending
In a desperate search for satisfaction.
Is this an oft repeated mall?
A pointless, painful repetition
Of a meaningless retail craving
A hunger never sated,
An eternal empty world.