Society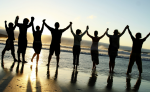 Wed, 22 Mar 2017
Now I have decided that fear is similar
to real life, to deep love. Now it's time
to wipe the dust from my antiquated eyes.
To blow the  cobwebs from my old hands.
Because anxiety comes into handy when
when you need certainty (happiness is
a choice, this land is mine, god is dead)
But what if your life is teeming with
sensible questions, practical paradoxes?
That's why I am writing to you. Your
jokes, scepticism, dogmas, your stories.
I need them. Like fear. Like deep love.