'Where is your home?'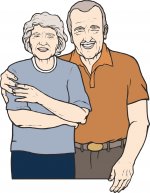 Mon, 03 Apr 2017
Together, they entered a home –
dementia for him had now come.
She needn't have gone, but she knew,
was certain the right thing to do,
as he needed her more, was to stay
close by, as his mind slipped away.
Awaking one day in his chair,
he looked, and his wife wasn't there
– she hadn't gone far from his side –
but in his confusion, he cried,
"I need to go home! Yes, I must",'
in troubled anxiety, fussed.
'And where is your home?' he was asked.
He pondered, no thought of a place,
but into his mind came a face
– "Where my wife is! that's home, where I rest!"
he smiled, was no longer distressed.