Full Of Trix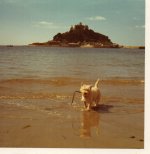 Tue, 14 Mar 2017
1 likes
I petted a cairn terrier today
which reminded me of you,
felt warmth of your memory
in it's wet lick upon my hand,
how you loved chasing shoreline
waves as they surged in and out...
I'd laugh to watch you bearing
seaweed then drop it at my feet,
you'd be excited then as when
fetching a stick, brimming with pride
at your catch, like you'd just saved
an ocean creature from near death.
Your love of adventure
led you into many
dangerous scrapes – like
the time you slipped off a rock in Cornwall,
into a deep crevice you fell,
scared stiff for your safety we were,
but you survived leaving me choking
back tears of happiness that you were okay.
Then there was the time
you found a slick of oil,
decided to roll around
thinking it would be fun...'No! No!' I'd said.
Oh, how I scavenged for right words to say,
seething with anger and feelings of dismay;
but nothing did I utter, just slipped on your
lead, not speaking a word till we got back home.
It took much care and attention
a treatment remedy cure,
visits to the doggy salon to groom
you up nicely, make you our Trix again.
Now I miss you like crazy
know your somewhere up there,
even with your antics my
special four legged friend I care.