Beth Tree and the Elgars 5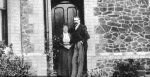 Thu, 29 Jun 2017
Mrs. Elgar remained a support to me as I continued with my lessons wish Mr. Elgar. And she also impressed me with her literary knowledge and competence. One day she went to the bookshelf and took down two books called Marchcroft Manor. "You might like to try reading this," she said, "but
remember it is fiction. Keep the books as long as you need. "
I must say that I loved reading Mrs. Elgar's book. It was a touching tale, with a lot of humour in it, and a feeling of a wild spirit, that I would never have imagined Mrs. Elgar as having.
Over the years I read many of her poems, and played the songs that Mr. Elgar composed to go with them. Each was improved by the other's contribution, I think.
I really like this poem of hers about romantic love.
Love Alone will Stay
Closely cling, for winds drive fast,
Blossoms perish in the blast,
Love alone will last.

Closely let me hold thy hand,
Storms are sweeping sea and land,
Love alone will stand.

Kiss my lips, and softly say,
Joy may go and sunlit day,
Love alone will stay."
Mrs. Elgar revealed some things about her relationship to her husband. She dealt with Mr. Elgar's mood swings and was a generous musical critic. She was also his business manager, social secretary, and not least set out and ruled score paper for his orchestral works. She said he lacked confidence and often got very depressed.
She did her best to gain him the attention of influential society, though with limited success. The honours accepted reluctantly by her husband mattered more to her due to her social class.
I asked her, "Don't you miss your own writing career?"
She told me, "The care of a genius is enough of a life work for any woman."
No one was more pleased than she when Mr. Elgar started becoming properly famous. He was writing music all the time, while he taught at the various schools in Worcester, and had contacts all over with orchestra leaders and other musical experts, to try to promote his work. He had composed several longer pieces, which were quite popular, but when in 1899, he brought out his piece called Variations of a Theme, it suddenly brought him to the attention of the music lovers of the whole country.
I spent quite a time with Mrs. Elgar, asking her to talk me through the variations, which I knew he had composed with certain of his friends in mind.
"It was the 21st of October 1898, after a tiring day's teaching, he sat down at the piano. A melody he
played caught my attention and he began to improvise various styles which reflected the character of some of his friends."
These improvisations, expanded and orchestrated, and become the Enigma Variatins, although originally it was not called by the name Enigma. That came later.
But Mr. Elgar liked the idea of it being an Enigma. He said to me when I asked him why it was called that, "I will not explain – its a "dark saying" and must be left unguessed, and I warn you that the connexion between the Variations and the Theme is often of the slightest texture; further, through and over the whole set another and larger theme "goes" but is not played."
Going back to my convesatin with Mrs. Elgar, I asked her how the piece was put together.
"The theme comes first," she said, "and then it meanders through the various sections of the piece. The first variation, I am pleased to say, he wrote for me."
"Do you like it?"
"Yes, but not as much as some of the other parts," she said. "He put the initials of who he was describing on each variation. The CAE, stands for me, as my first name is Caroline. It repeats a four-note melodic fragment which he whistles to me when arriving home."
"And the next one, has the initials H.D.S-P. Who does that stand for? "
"Hew David Steuart-Powell who is a pianist and has been Edward's friend for many years and has played along side him. His characteristic is to do a diatonic run over the keys before beginning to play. Edward thought this would be something he would find humorous but that wasn't really the case."
"What does diatonic mean?" I asked.
"I'm surprised that you don't know, as you have had so many music lessons. A diatonic scale is a heptatonic scale that includes five whole steps and two semitones. The word "diatonic" comes from the Greek διατονικός, meaning progressing through tones."
"So those are the sort of simple scales that we are all taught."
"That's right. Now the next one, "R.B.T." stands for Richard Baxter Townshend, Oxford don and author of the Tenderfoot series of books. You know these I expect. It is his account of his time in the wild frontier territory known as Colorado This variation is presenting him as an old man as he has often taken such a part in amateur theatricals."
"Are all the variations about his male friends, except for the first one, of course?"
"No, not at all. Edward has many female friends who I will mention as we go along. Variation IV is for "W.M.B." William Meath Baker, squire of Hasfield in Gloucestershire and benefactor of several public buildings. Interestingly he is the brother-in-law of Richard Townshend. depicted in Variation III, and
step-uncle of Dora Penny (a female for you) in Variation X. Edward was trying to get across William's energy. This is the shortest of the variations.
"So we now get to Variation V. Who is that for?"
"R.P.A." Richard Penrose Arnold, the son of the poet Mathew Arnold and an amateur pianist. We are great friends with the Arnolds. Edward taught Richard for awhile. This variation leads into the next without pause. Variation VI is for "Ysobel" which is a variant spelling for Isabel Fitton, another of his pupils, as you were, although she didn't stay a pupil for long.. Isobel apparently had difficulty with the exercise of crossing the strings, so he built this movement to demonstrate how it is done. Again, the Fittons are great friends of ours."
"And now we come to VII. Is that for another family that you are friendly with?"
"Troyte" is for Arthur Troyte Griffith, a Malvern architect and one of Edward's firmest friends. The variation, good-naturedly mimics his enthusiastic incompetence on the piano. It may refers to an occasion when the two of them were out walking and got caught in a thunderstorm. The pair took refuge in the house of Winifred and Florence Norbury (Sherridge, Leigh Sinton, near Malvern), to which the next variation refers."
"The story of them sort of blends together, doesn't it?"
"Yes, that is the idea – for each variation to be separate, yet connected. "W.N." Winifred Norbury, is one of the secretaries of the Worcester Philharmonic Society. But this movement, which I said leads on from the last, is really about their eighteenth-century house. The gracious personalities of the ladies are sedately shown. Winifred was more connected with Edward's music than others of the family, and her initials head the movement; to justify this position and he put in a little suggestion of her characteristic laugh."
"Have we come to your favourite yet?" I asked.
"You have just now come to it, as it is variation IX, and called Nimrod which stands for hunter and comes from the Old Testament where Nirmod is a patriarch described as a mighty hunter before the Lord. It is meant to represent Mr. Jaeger and jager is the German for hunter. He worked as music editor for our London publisher, Novello & Co, and also a close friend of Edwards. He gave him useful advice but also severe criticism, something Edward greatly appreciated. He offered him stimulation when he was depressed and encouraged him as an artist and helped him to continue composing despite setbacks. Once, when he was very low and Mr. Jaeger visited him he referred to Beethoven who had a lot of worries, but wrote more and more beautiful music. 'And that is what you must do',
Mr. Jaeger said, and he sang the theme of the second movement of Beethoven's Piano Sonata No. 8 Pathetique. If you listen to it carefully you might hear a hint of that in the opening bars of Nimrod."
"I will listen to it with renewed interest, now you have told me that," I said.
"I already told you that Variation X is dedicated to a female friend, Dora Penny, and it is called Dorabella. Dora's stutter is gently parodied by the woodwinds. We are great friends with their family and Dora was a student and great friend of Edward's as well."
"I wish he had dedicated one to me," I said a bit naively.
"Well perhaps he will in the future," said Mrs. Elgar, to try to cheer me up. "Now for the next three, "G.R.S." stands for George Roberson Sinclaiar, who is the organist of Hereford Cathedral. But Edward is quick to say that the variation has nothing to do with organs or cathedrals, but rather with George's bulldog. Apparently one time he fell off a steep bank into the River Wye but managed to paddle upstream to find a landing place, and his rejoicing bark on landing was what he set to music.
"Number XII, dedicated to BDN, which stands for Basil George Nevison, a cellist who played chamber music with Edward, and this piece is concluded with a cello solo.
"This goes straight into Variation XIII, called Romanza. Edward was thinking of Lady Mary Lygon of Madresfield Court near Malvern when he wrote this. She was a sponsor of a local music festival. He didn't want to use her initials because with it being  thriteen, he thought she might have reckoned it to be unlucky. At the time he wrote it, she was on a sea voyage, and the music is supposed to suggest the distant throb of the engines of a ocean liner. It's a tender piece during which a rustle of side-drum mimics the sound of a steamer's engine, while the clarinet plays bits from Mendelssohn's Calm Sea and Prosperous Voyage."
"And now we come to XV the last one, with E.D.U. being the initials. Does that stand for a variation on his own name?"
"Yes, Edu is what I call him when we are at home together based on the German spelling of his name, Eduard. The Nimod theme and the one from my variation are echoed as he says we are his two great influences. In July, one month after the original version was finished Mr.Jaeger urged Edward to make the variation a little longer. After some cajoling he agreed, and also added an organ part. The new version will be played for the first time at the Worcester Three Choir Festival in September this year. I hope you will be coming."
"Oh yes, my family wouldn't miss it for anything."