The Picture Ranch 37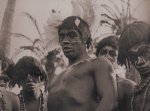 Fri, 04 Aug 2017
The waiter glided across the fine white sand. Did they teach them how to float over it? I had slid and slipped my way to the far end of the pool, almost dropping the towels twice.
'Yes, suh?'
'What's your name?'
'They call me Noble.'
'That the name your Mom gave you?'
He looked surprised, as if I had performed some vaudeville mind-reader's feat.
'Nossuh. It's cause I look like the guy from the Kong films. It's Jackson,' he gave a twisted smile. 'Valentino Jackson. My mom always did like the movies.'
'Well, Valentino, can a guy get a bottle of navy rum in this dump?'
He laughed and said 'Sure'.
As he turned to go, he leaned forward, one hand cupped around his mouth,
'They don't call me "Noble" when Mr Chaney's in the hotel.'
My drinking companion was staring at me, 'You're a strange guy, Fisher.'
Then she rolled over and turned away from me, to face the rising hills.
Much as I admired this rear view, I spoke just as soon as I was half way into the rum.
'If you're waiting for me to ask you what it's all about, you should remember that this rum is on your tab.'
She let out a shoulder-heaving sigh, which did not spoil the view at all. Then she turned round to face me at last.
'It's about respectability. The kind your friend Schultz wants. The kind they all want eventually. Even a Chinatown Boss, though someone like the late Mr Li won't ever get it. That doesn't stop such a man trying to buy it. Or someone less than scrupulous – say, a Mulvaney, maybe even a Hearst, some California Caliph – offering to sell them it. Land. Land with water rights AND water. That's respectable money, right there… And these rich, rich men, they're always men, Fisher, did you notice that?'
I took a drink, raising the bottle in her direction by way of an answer.
'Yes. Well. These rich men, they like to collect things. Old Chinese Coins, Art, Pornography, Women… Boys. They believe they can buy…
'Anything?' I said, since I wanted to show I'd been paying attention.
'Everything.'
My belch caught us both by surprise. I almost spilled some rum. Miss Gräfenberg raised an eyebrow.
'Quite so, Fisher, quite so. I suggest you get some sleep. We're going to pay a visit later this afternoon.'
She stood up, made for the pool, gliding across the sand like a waiter and dived into the water, shattering the crystal-blue like a stone.
I did sleep, rummy's dreams notwithstanding. Some of them were quite improbable. Some were impossible, like the things I dreamt I was doing with Miss Gräfenberg, but it was nice to think that, in dreams, I could still do them.