Beth Tree and the Elgars 11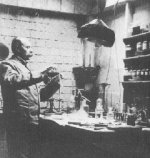 Sun, 06 Aug 2017
 1908
One of Sir Edward's passions had nothingwhatsoever to do with music. He loved to experiment with chemicalsand to do practical things with the results of his work. I rememberthat in 1905, he demonstrated his experiments to his neighbor, CountLubienski, who had contacts in the science world.
He would happily spend hours in his shed which hecalls "The Ark" tinkering away at little experiments, but the culmination was most certainly his invention of the Elgar Sulphuretted Hydrogen Apparatus, which was a device for synthesising hydrogen sulphide that briefly went into production. Mixing hydrogen and sulphur made a very smelly gas that is used in filling hot air
balloons. Lady Elgar showed me a letter from the company who agreed to make it, Philip Harris & Co..
"We will construct a Sulphuretted Hydrogen Apparatus as per your suggestion and will forward to you for trial; at the same time we will have some made for ourselves, and experiment with them. We thank you for your kind offer in permitting us to make these." She didn't know for sure but suspected his projects caused him to have the problem with his eyelid which became inflamed. She always used baby talk when she mentioned him, and she said his eye was "badly" and the doctor had to come every day.
I was taken to see the 'Ark',' as the beautifully fitted-up little laboratory. It was rather like a toy Noah's Ark from the outside. I went round reading the names on the bottles. He made a phosphoric concoction which, when dry, would "go off" by spontaneous combustion. The amusement was to smear it on a piece of blotting paper and then wait breathlessly for the catastrophe. One day he made too much paste; and, when his music called him and he wanted to go back to the house, he clapped the whole of it into a gallipot, covered it up, and dumped it into the water-butt, thinking it would be safe there. Just as he was getting on famously, writing in horn and trumpet parts, and mapping out wood-wind, a sudden and unexpected crash, as of all the percussion in all the orchestras on earth, shook the room, followed by the "rushing mighty sound" he had already anticipated in his music. The water-butt had blown up: the hoops were broken, the staves flew in all directions; and the liberated water went down the drive in a solid wall. Silence reigned for a few seconds. Then all the local dogs gave tongue; and all the doors and windows opened. After a moment's thought, Sir Edward lit his pipe and strolled down to the gate, as if nothing had happened
and the ruined water-butt and the demolished flower-beds were pre-historic features of the landscape. A neighbour, peeping out of his gate, called out, "Did you hear that noise sir: it sounded
like an explosion?" "Yes," said Sir Edward, "I heard it. Where was it?" The neighbour shook his head; and the incident was closed.
When it was time for him to perform his first symphony in Manchester, Lady Elgar wrote to tell me that he was so "porsly" that she worried that he might not be well enough when he was called to go on stage after the performance. Here is more from her letter. "All of the orchestra and most of the audience stood up in tribute. Wonderful playing and intense enthusiasm, said the papers. Some people wept. Sir Edward looked very apart and beautiful being recalled again and again. Next day we found the papers were splendid in their praise. "
The Elgars spent Christmas in their London flat, and I had a card from Dr. Elgar. He apparently had received a tiny piano as a present from someone, and he planned to install it into his Ark. He wrote, "I am overjoyed but do not know who has sent it - one of four possible people: but I must think how to find the giver. I am still disappointed that you have not heard the Symphony: it is making a very wild career and I receive heaps of letters from persons known and unknown telling me how it uplifts them: I wish it uplifted me - I have just paid rent, Land Tax, Income Tax and a variety of other things due to-day and there are children yapping at the door, 'Christians awake! salute the yappy morn'. I saluted it about seven o'clock, quite dark, made a fire and mused on the future of a bad cold in my head and how far a carol could get out of the key and still be a carol.
I have been told that my symphony will be played in Worcester in February so I hope to see you then."
1909
When we went to hear his Symphony, Sir Edward took his place at the conductor's stand, and he made the best use of it. As a conductor he does not demand the attention of the audience; but I could see at once that he held a grasp of power over all the musicians, swaying them with a strength to which they could not but instantly respond. When it came to a rousing passage, he
would strike as with the stroke of a hammer, and the music would leap instantly into flaming sound.
I sent him a letter of congratulations, and he replied from me when they had made their way to Paris. His letter said.,"I hope you are enjoying such weather as we have been blessed with here. Paris is alive and, in a curious way, inspiring: all cities are built on seven somethings. Rome on seven hills Hereford on the cardinal virtues, very much buried. Paris certainly on the seven deadly sins – which make life worth looking at if not worth having. Alice and Carice have arrived and send best wishes. We travel to Florence on Tuesday."
A week or so later, I had a note from Lady Elgar. "Woke up in Wagon lits. lovely hot day. All felt very dusty - but gay. Lovely along by Rappallo but difficult to see Seaside. We arrived in Florence 11.30 and Carise and I got a pony at the station and. drove with small things (the silly horse passed his own stable and as he thought he was home, refused to move) to the Villa. When we got there we explored and admired it and then sat out and waited for Edward. He and a friend came in little cabs with the luggage. Most lovely, not too hot. We have been to the Uffizi but saw much Art and got rather tired. Town full of foreigners. Heavenly day and air - Butterflies, flowers, lizards, terrifying black ants! Edward met Miss Burley in town. Edward is looking so well and rested. no doubt due to the glorious weather, the world bathed in sunshine, the air scented with flowers and resounding with nightingales.
It is a very spacious Villa, the hall in Roman days was the Atrium and in later ages, it was one of the Medici Villas. We look on Fiesole but are separated by a deep valley, however Edward and I walked there yesterday, as it was quite cold. Today we went into town. Edawrd to the dentist. Dr. E. Dunn who put a gold crown on his toof. Then we went to Fiesole in Train. Took a carriage and drove out to Monte Fiano. Lovely drive. Beautiful views from the house and such a warm welcome. We are coming home via Florence" You must write and tell us how you are getting on."
Now the Elgas received some very bad news. Mr. Jaegar, the Nimrod of the Variations, died. I didn't really know him, but I had met his wife on occasions when they had been visiting in Worcester, so I wrote to Mrs. Isabella Jaeger: saying, "My deepest sympathies and prayers are with you. The news came as a great shock. Although I hardly knew Mr. Jaeger, I know what the loss will be for Sir Edward, as Mr. Jaeger was his dearest friend."
A few weeks later, I heard again from Lady Elgar. "We are making our way slowly home via Verona and renewing our acquaintance with the Bavarian Highlands, which we found rather spoilt since we were last here in the 90's with a lot of building We paid a solemn call on Richard Strauss and his wife' with me being their interpreter. We were amused when Strauss wanted to show Edward some score or paper of interest, he called out to Frau Strauss who produced a bunch of keys from her underskirt, and duly locked it all up again when they had finished.
Dear Edward is up in arms over how much more money other composers get compared to him. He said to me, "The orchestras pay any foreigner 4, 5, 6, 7 or even 8 times the amount given to me and then don't mind if they lose largely over the visitor because they say it's good for art. It annoys me that the money they really make out of me is spent on other people. It won't help shouting about it but it relieves my feelings."
It was in this year that I left Worcester to take a teaching post in the southeast, at Tunbridge Wells. A womn of our acquaintance was also a teacher in the area, but not at the same school as me. I was hired for Tunbridge Grammar School for Girls, which has a very good music department. I had been teaching at my old school in Worcester for the past few years, and I felt I was ready to go to a place where I might have the chance of advancement. My sisters had gone to Cambridge, and Jessie was now working with Father in his Solicitors Office, but I didn't want to just stay at home and not see something more of the country.