Do-it-[all]-yourself?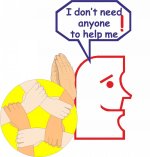 Thu, 28 Sep 2017
Self-reliance (juche?) –
man* is the master of his own destiny
– is he?
a master of his own ascent,
or expert at mistakes, stupidity,
unplanned descent?
No man can fully trust himself,
lean only on himself –
nor only on his friends.
No nation either
(though its leaders force, oppress,
dissent suppress)
should think itself beyond the need
of friendship with the rest of humankind.
But the Source of all the universe alone
can fully meet man's need,
the needs of all who stumble,
confused and fearful, ignorant,
the needs of nervous nations too.
*man used as the generic word for anyone human
[IP: do it yourself.]