Cupid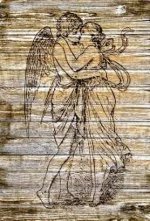 Thu, 09 Nov 2017
I am running the risk
of being thought stupid
if nonchalantly I admit
of trusting in Cupid
and the concept
of love at first sight.
When I was young,
and no doubt naïve,
it was my belief
that no one would grieve
if we took the fig leaf
of a virginal Eve
while some would grapple
with their conscience
regarding their yearning
for Adam's apple.
Of course we all knew
about intercourse,
both social and sexual,
and if the etiquette
of it being consensual
was properly followed
no one would be upset.
But not everything
was sweetness and light:
a shadow descended
on the amorous scene.
Many predators thought
that it was their right
to indulge in behaviour
that amounted to abuse.
For such conduct
there is no excuse
and it will come a day
when the perverts will find
that for their misdeeds
there's hell to pay.
© Luigi Pagano 2017