Adaptibility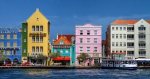 Sat, 23 Dec 2017
1 likes
That is how it comes into being. One day I
open my front door. The river flows inward.
To say that I am totally surprised wouldn't
be fair. I have already been warned several
times. The water was already up to me neck
more often. This time there is no stopping.
The river is buzzing, puffing and scuffing
like it just has been created. Within seconds
the house is flooded. It takes a while to get
used to a river in your room. And of course,
the IKEA cabinet can't be saved. My kids
use the stairs as springboard. My wife learns
how to snorkel as lead-up for our holidays
to Curaçao. And I? I drown in the swampy
days, I bob on the soggy nights. On hopeful
mornings I surmise an Ark at the front door.