Evangelina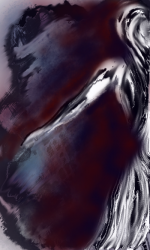 Mon, 01 Jan 2018
            Almost perfect.
            So close as it makes no difference.  Try to find a line out of place, a flaw, a miscalculation.
            She has this effect: when she walks into a room it sucks the air out, it opens the universe and lets in the silence.  And she walks through, with heads turning, with eyes looking her way.  For a moment there's a sense of unreality.  Can this be true?  A train of stardust that flutters in her wake, that featherfalls behind her, a path of diamond dust. 
            An angel in the atmosphere.
            And then: a woman.  A beauty; but just a woman.
            Feel foolish.  Feel as if you're listening for music that just stopped playing.
            #
            Helen of Troy.
            Well, she could be, couldn't she?
            She's always so golden, Helen.  In pictures, in the movies.  The blonde, blue-eyed fairy tale.  But I imagine her dark, with big sultry eyes that seem to be made of oil, or tar, reflective; while her hair is ebony, but mirror-bright, so that the colours of the sun and sea are reflected in it, so that raven hair has traces of amber, of caramel, traces of spice and sunrise.
            Evangelina.
            Creamy, unbroken skin; full lips; those huge inky eyes that make her look like a doll.  Her hair is thick and dark; it moves like a waterfall down her shoulder, over her collar bone, along the curve of an uncovered arm.
            Every inch is erotica.
            Nothing left to chance.
            #
            She sits down beside me.  Looking foreign, in jeans and jacket.  Looking like somebody else altogether.  She rests one forearm on her knees.
            Teach me everything, teach me how to be you.
            "There's no place in the world for the weak," she tells me.  "For the wicked, yes, that's different.  There are places and places and places.  But there's nowhere for the weak to go.  There's no shelter.  You remember that.  Be the wolf.  Feast.  It's better than being feasted on.  Trust me."
            And I do.  Looking up at her, lolly-pop forgotten.  Trying to memorise every detail, every trick.  My place in this world should be in her footsteps.  Where else is worth going?  And who else is better ready, better suited to being alive?  Who else can walk through the world as if it's butter and she's the knife?
            #
            She gets ready with her act.  In sequins.
            He comes to take her hand; she flows into place beside him.  She tilts her head high, offering up her swan neck. 
            Vulnerability is illusory.  She has them in the palm of her hand.  A diamond smile for one, a searching look for another, a barest glance for yet another.  She can navigate these currents blindfolded, bound.  Like they're in her blood.
            Includes us all beneath the warmth of her halo.
            Would she dance?  She would.  Without taking her eyes off him, swimming in the music, staring him down.  Her stare tells him she's fascinated, out of her depth and a little bit scared, but in love, in lust, in hope.  Surely there will always be him for her, surely she can always look up and there he'll be.
            What matter how much of that is true?
            She leaves me with a half a packet of fruit jellies; with a string of glass beads.  I further my apprenticeship through windows, through cracks in doors.
Picture credit/discredit:  author's own work.