Metallic Sounds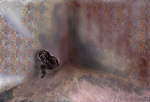 Sun, 26 Aug 2018
The clanging never stops,
It never stops echoing,
It travels around the world and comes back.
Metal on metal on metal,
Forever.
His voice on hers,
Chiming off each other,
"I could have married half a dozen women!"
"I could still find a better man!"
His fingers in his ears don't keep the sound away.
So sometimes he runs.
Out through the tennis courts, and past the old oaks,
To where the sounds are different
And he can think again,
To where the wind blows in the from the sea,
All salt and silicon,
While the trains come roaring and rhythming past,
And there's a kind of silence under their noise,
A secret peace.
He sits on the hillside and watches the sun melt into the valley.
Picture credit/discredit: author's own work