Sunny Day Out In Oxford Part One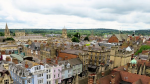 Wed, 14 Nov 2018
Dear diary...
eager as I am to complete my bucket list of things to do, my partner was surprised when I declared that a trip to Oxford Castle Dungeon was definitely something I needed to accomplish. It's very odd I know, I've been to many places abroad and yet have never been to Oxford castle which is nearly on my doorstep, but now the day had come.
It was a bright sunny Monday morning on Monday 3rd September 2018, that me and my partner arrived at Swindon bus station ready to board for our trip to Oxford. I've only ever been there once before with my son when he was a teenager, but the day hadn't really amounted to much apart from dragging my thirteen year old around the shops which didn't impress him at all.
The hour and a half trip was okay as we traveled down through the beautiful small villages, with their endless thatched roofed cottages that sit in hidden gardens that appear to me to be full of mystery and in need of a story to be written about them by me one day. But sitting for that amount of time in one position was a bit tedious, so with the sun beating down, I managed to shut my eyes and just dream.
By the time we reached Oxford bus depot, it was mid morning and me and my partner were in much need of the loo, so after stretching because we were stiff from sitting down for such a long period, we headed for the toilets.
Leaving the bus station, we crossed a square and I had to drag my partner away from the first pub he saw, no way did I come all this way to sit in a pub...not even for a quick one, at least not till I'd completed my list of things to do.
In a square just outside the bus depot I asked a stall holder selling hot food from a van, and a few other people the way to the Castle, we were directed up a very old cobbled path, which we found out was a short cut...hey presto! There stood the Castle in all its pride at the other end of the lane, I never realized it was so close.
In the grounds we walked through another square and arrived at the gift shop which had some very nice souvenirs, but they were all extremely expensive, so I declined buying anything, even when my partner offered to pay. Instead I let him buy two tickets for the tour of the dungeon. A nice lady in costume that we got the tickets from, told us we'd have to wait half an hour before the next tour, but that there was a great view to be had from the top of the mound just beside the castle.
Leaving the building we headed to the mound and I prepared myself for the steep climb. I was quite weary of not wanting to slip, finding myself scared with each step taken, so relied on my partner for help holding onto his hand. This was strange for me as I never used to be nervous of climbing, but with my hip replacement falling down was the last thing I needed.
Finally at the top we did get a good view of the city, though it's definitely not something I'd be eager to do again. If I thought going up was hard coming down was even worse, as yet again we passed the well that was a water supply for the Castle. The well went down, I seem to remember about 30 miters. The Castle was destroyed after the civil war and I do believe it was a Royalist Castle...If my memory serves me well!
Finally reaching the bottom of the mound, we arrived back at the shop just in time and went to the entrance of the dungeon. Our tour guide was dressed in costume of the time and was an enthusiastic ex teacher, his role was to be a reincarnation of a civil war supporter, who was captured in battle and sent to Oxford prison. After the battle between the royalist and the parliamentarians he got let out of jail because he was rich and well connected. I loved this guy's eagerness to get us all involved which our group did with much vigour.
Our first port of call was a room that was adjoining another room you could only look into, we were told a water wheel once stood in the middle of the room and prisoners would be made to walk round and around to draw water from the river below. Where the prisoners trudged day after day, it had left the floor bowed and was quite unique, so our guide told us.
We then ascended up a spiral staircase that was extremely steep and narrow, I couldn't have managed this climb a few years back, but even now I was finding it tough and strenuous on the hips. We were now in another room and had a lot of fun learning about the civil war, due to some enthusiastic tourists, one in particular was a very eager girl who appeared to me to be about twelve and was given the role of playing Empress Matilda while another guy played King Stephen.
Our guide then continued to relate the story of Matilda. She was born to Henry 1st King of England and his wife Matilda of Scotland. We were told the young Empress Matilda came to Oxford in 1141 to base her campaign at the castle.
Robert D'Oyly who inherited Oxford Castle in the 1140s supported King Stephen Matilda's cousin, but changed tactics and decided to declare his support for the Empress Matilda instead.
The young twelve year old enjoyed the drama of role playing and what was to come and played her part well.
King Stephen then became angry at the situation and arrived back at the castle in the Autumn of 1142, he attacked and seized the town of Oxford and trapped Empress Matilda in the castle.
With their invisible swords this young twelve year old girl began to sword fight with the the guy playing King Stephen and had us all in stitches laughing because they were getting so much into their parts.
Finally in December of that same year Matilda escaped by waiting until the snow came, and dressed in white she skated across the frozen river Thames and reached Abingdon -On -Thames safely.
The twelve year old tourist then pretended to skate across the room and smiled gleefully looking very smug at the tourist playing King Stephen...it was so funny to watch.
Oxford Castle was then handed back to King Stephen the next day. When Stephen died he passed the reign to Matilda's son Henry, but then ironically her son died too and Matilda enjoyed a ten year reign until she finally died in 1167.
Next our guide showed us the way to the crypt which was the old medieval part of the prison. Our guide described it as being haunted by the ghost of an aggressive monk. He pointed at the wall and said, "It's a bit spooky in that corner over there where the monk's supposed to appear."
Now being the curious person that I am, I asked, "Can I go and touch the wall, see if anything happens."
The tour guide said in his most happy go lucky voice, "please...be my guest, but don't blame me if something appears, because Most Haunted came here years ago and felt someone touch them in that corner."
So anyway being the brave soul that I am, in fact I didn't feel at all afraid, I eagerly went over and touched this huge black stain on the wall thinking something might appear, but nothing did. Meanwhile a tourist was told that sometimes the monk appears in photos, so he got his phone out and proceeded to practically beg the Monk to appear as his camera went off, but still nothing happened.
So to scare us a little more, the guide switched out all the lights and we were left in total darkness which again didn't bother me in the slightest. He proceeded to Switch the lights back on saying; "sorry about that folks." To which we all kept very quiet, thankfully nobody screamed. Then our guide told us that bodies were brought down into the crypt and left to rot...not a very nice thought, but to be honest I never felt anything down there apart from a bit chilly.
To be continued...
Picture by pixabay free images.