Waiting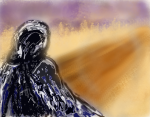 Sat, 01 Dec 2018
I'll wait for him.
No matter how long. No matter if there's decades.  No matter the looks that I get and the whispers behind hands.
I'll wait longer, if longer is needed.
#
I started before I'd quite turned twenty.
I was young.  I was careless with youth.  I was a girl with the world at her feet, with seventeen years of experience and a lifetime of unexacted promises.  I was seventeen, and I was about to meet someone who would change my life.
His name was Gus.
I was out with some friends I can barely remember.  Friends whose memories have faded, whose lights have winked out, and time has smoothed over and forgotten.  Bright shiny girls full of expectations and unwillingness to back down from anything.  We were out on the town, flashing fake IDs, laughing out loud.  And Gus.  He was leaning against the bar, stirring something on the rocks, having that faraway look in his eyes that makes a girl think he must be both deep and mysterious. Something far less flimsy than the boys they see every day at school.
"Oh, yeah," I said, gesturing his way.
"Well, do it," said somebody.
"Do you think I won't?"
It became a dare.  And I wasn't the sort of girl who walked away from a dare.  The girls were all egging me on – practically chanting – so I downed what was left in my bottle and sauntered on up there.
"Hi, I'm Ella.  Nice to meet you."
#
It was.  Nice to meet him.
A night spent dancing turned into a left-behind phone number, turned into a call, turned into a date, and then another date.  Turned secretly and inexorably into a relationship.  It moved like paint drying, like a flower opening, a tree growing: we never saw it move or change, we never caught it in the act, but it became something. Powerful and real.  I was never the kind of girl who did things by halves. If I was going to fall for a guy, I was going to fall all the way, and I wasn't going to stop falling until I was impossibly in love and had no way back, only forward.
And so it was with Gus.  Being with him was the only answer to any number of questions.
We sat in our favourite café and read through the paper together.  The sun was shining outside and there were children playing skipping games in a neat, co-ordinated line.  I didn't see Gus reach for a felt tip pen and circle a 'to rent' ad for an upstairs, one-bedroom flat.
When I looked back down at the paper: "Wait.  Are you…?"
"Well?"
"You're sure?"
"When it comes to you."
And so we moved in.  We set up house. I turned nineteen. I approached twenty.
#
Gus woke me up in the middle of the night.
I tried to roll over and go back to sleep, but he was insistent.
"Right now?  You horny little…"
"Not that."
I opened my eyes all the way.  "What is it?"
"A question."
"What?"
"Would you wait for me?"
"Oh, I think that boat's sailed already."
"Not that way. I mean, if I was gone for a long time, you didn't even really know where, but you knew I'd come back eventually.  Would you wait for me?"
The middle of the night is the wrong time for testing a relationship.  The first words that wanted to climb out of my mouth were "Fuck, no."  But there was something about the way he was saying this that tipped me off: there was something more going on.  "Are you in trouble, Gus?"
"No."
"Then why would you ever…?"
"It's complicated."
I was sitting right up now.  "Nothing good ever comes out of complicated.  You know that."
"It is though."
"What's going on?"
And so he showed me.  And I gasped in shock. I flung my hands up against my mouth to keep from screaming as the years tumbled off him.  He unravelled himself.  And as he unravelled, the fresh, youthful face fell away, years and decades of wrinkles, of age spots and sagging skin.  The creature left in front of me wasn't an old man – he was withered far beyond that.  Centuries beyond it.  Parched skin, clinging to bones.  Entirely monstrous.
"But-"
He couldn't speak.  He could only reach for me.
I tried not to, but I scuttled backwards, my body moved out of instinct.  It didn't want to touched by this thing.
Once it had clothed itself again in Gus's features, he said, "So, you see."
"No.  No, I don't.  I don't…"
"I'm not exactly what I pretended to be."
"No shit."
"I have to go for a while. This… it doesn't last.  It needs…"
"A reboot?"
"Right."
"Where the fuck do you go to get one of those?"
"I can't put that into words."
#
So the next day he showed me something else.  He said, "It doesn't really matter which path I leave by. All paths go the same way."
"Go where?"
"Home."
"Oh, don't you-"
There was only one way to make me understand.  We were standing in front of the mirror that covered a whole door of our wardrobe.  He pressed his fingers against the glass, and I gaped as the glass liquified, as viscous molten glass flowed down the edges and onto the carpet.  Beyond the glass: a desert.  Or not exactly a desert – maybe more like a moonscape, or like… something… else… a scene that was lifeless and barren, bisected by a huge, pocked clay road, but a scene that was at the same time full, crowded with its own emptiness.
Gus's youth drained away.  His skin coloured into something dark, reddish, leathery, and his ears folded into narrow slits.  His eyes darkened.
"What the fuck…?!"
"I'm still me," he said, but his voice was like a violin being played.
"I-  I-  I don't-  I think-"
"Tell me you'll wait for me."
"I-"
"Just that you'll wait."
"I'll wait!"  It tumbled out.  I nearly choked on it.  But there.  I'd said it. I'd wait.
Gus stepped into the mirror.  He became a narrow figure walking along a rough, auburn road.  Then he became a speck.  Then a nothing. Then the glass closed over the mirror again and it healed without leaving a scar.
#
And I waited.
I was a stubborn girl.  I didn't back down from a fight, and I didn't back down from a promise. I had told him I'd wait, and I would wait.  My friends thought I was being nuts – those forgotten girls from so many years ago – they were convinced that Gus had left me, that he'd dumped me without the graciousness to even tell me about it.  He was scum in their estimation, and I should revile his memory, move on at lightspeed.
To be fair, I didn't share the secret.
The secret was too much to be believed.
#
And I waited.
Though years passed.  Though I lived a life.  Finished studying, got a job, convinced my landlord to let me buy the little upstairs flat.
Though I had invitations.  Though I wasn't short of suitors.  The truth is that I could have married either of two doctors, an aspiring actor, a postman, a mysterious stranger with fiery red hair who ask me to dance with only his hand, with his eyes, and his sparkling smile.  I had all those men available.
#
But instead, I waited.
He would send me a postcard sometimes.  I'd be reading a book and I'd turn the page and instead of more writing there'd be a full-page picture of some strange land where purple vines had wrapped themselves around a city, or where a red desert gaze way to a huge white rock; to where the sand met the fresh, green grass without pause, with no lead-in, as if only magic had only ever held the two apart.
Or I'd be walking along some familiar route and I'd look up at some billboard and see that it'd changed into a hillscape of winding, withered valleys, their precipitous sides coated in lichen and growing only brown, scrubby little trees.  I might see a figure at the end of one of these valleys, halfway turned to look at me, too tiny to recognise a face.
One day I received in the mail a swan figurine, proudly antique, with a little stamp on the bottom, to declare it made in 1756, beside the artist's mark.  From that I understood that he wanted me to know how old he was.  I might have sent him some eighties high fashion in response; but really, where would I send it to?
#
And so I waited.
And the years left their mark on me.  The decades did.
I was stubborn in my refusal to leave the little flat.  And though the wardrobe door was old and old-fashioned, though it didn't shut properly anymore, I would never allow it to be fixed or replaced.  All as it ever had been.
My nieces and nephews shook their heads at me.
And then my great nieces and nephews.
Then great-great; and then great-great-great.
We all forgot my age.  I was only her – the shrivelled thing, the old lady who sat and watched her reflection in the mirror, who counted the wrinkles and glared at the ravages of age.  Who cried in silence for the young woman whose life these days before the mirror had gradually eaten up.
Who cried for the girl who'd waited.
#
And still. I waited.
The night is dark.  The streetlights outside have suffered a power-surge and then a failure. The network is unreliable these days as the earth's demands overload it.  I wake to a sound I can no longer hear, and I look to the mirror.
The glass is melting.  The light behind that glass is amber, it's the light of an impossibly foreign desert, and on the road a man walks. He's exactly as young as I remember him, stepping through the warping glass and into the night-still room.  He walks up to me, a tiny bit aglow, his eyes having the same colour of never-ending summer.
I reach for his hand.  "But I'm old."
"It doesn't matter."
"Of course it does."
"Not in there."
"There…"
"We have centuries left. If you come."
The glass would heal before the home-help lady came in.  She would find just my empty bed, my nightie.  She'd see my best dress and my walking shoes and my handbag all missing.  She'd glance at the mirror for a moment and she'd think she saw a young couple walking hand in hand along a wide desert road, but then she'd look again and she'd see only her own reflection.
END
Picture credit/discredit: author's own work