To be lost in space?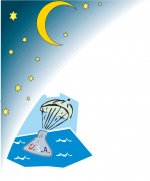 Tue, 08 Jan 2019
Far from safety, situation stark;
worldwide watching, waiting, shock,
frantic cooperation – three afar,
technicians, engineers at home on earth:
ideas bouncing back and forth,
challenging to innovative thought
– re-jigging equipment, time short,
duct tape found to help concoction,
creative, checking each suggestion:
three stranded men to die from lack
of oxygen, their capsule burn in coming back,
or head away, lost,
buried deep in space,
no trace?
How many were aware
of those long minutes,
reentry's audio silence:
across the globe men waited,
listening, everywhere.
The US Senate and the House
had called, requesting all to pray.
Many were deeply awed, aware
of numerous coincidences,
and the way
disasters feared
disappeared:
the three saved to serve, and be
reunited with those they'd feared
never again to see.
The history is now considered
a monument to human co-operation
and endeavour,
NASA's finest hour
but many involved acknowledged
that without help greater,
there could have been no solution
in time,
no success,
before disaster death.
[IP: lost in space]
Apollo 13, April 1970