30. Lady Writer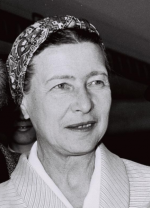 Wed, 13 Feb 2019
The limousine pulled up at the drop-off point in front of Trump D.C. I made to get out, but Sam Sara put a hand on my arm.
'Driver, can't you find him somewhere to change?'
'Sure, Miss, I'll just let you out here. If you don't mind waiting in the lobby, that is?'
Sam's face said she did mind, but Mr D was out of the driver's seat and beside her passenger door in no shakes of his own tail.
I waved my fingertips toward Sam in a brushing motion. She rolled her eyes but got out anyway. A gabble of press people took photos and several steps towards Sam until they realised she was nobody. She waved the invitation at the doorman, pointed over at the Benz and held two fingers up at him. At least I think he was the doorman; the braid on his uniform could have belonged to an Argentine Admiral.
The Devil drove the limousine with his arm over the back of the seat and his face half turned towards me. We stopped by the dumpsters out back. Several Latinos put out cigarettes and hurried inside. He popped the trunk and gave me a tuxedo,
'Think those are illegals?'
'The Donald wouldn't employ anyone but bona fide 'Murricans.' I said.
I unfurled for ten-seconds before I put on the shirt and jacket. Mr D smiled,
'You know, back when I was still the other guy's main man, I hated those wings. This is worse though.'
He pointed at the crotch of his chauffeur's jodhpurs. I asked him why he didn't store his tail in the baggy bits at the sides. He laughed and said,
'Who d'ya think invented these, anyway? MC Hammer?'
He nodded and touched a horny nailed finger to his cap, after the car dropped me off out  front. The press pack ignored me, so the Argentine Admiral pretended he hadn't seen the limo before, until I poked his chest hard enough to make him gasp. I went in and looked around for Sam Sara...
Who was standing with two oily-looking characters with brass name tags on their left breast. Their uniform jackets were made of something to be kept out of reach of naked flames. The décor was Tinto Brass porno, the carpets were as dangerous as the uniforms and I supposed the drapes were too. I rescued Miss Sara and we headed for the Elevator. A board with plastic letters read,
                  "Frances De Sales Prize for New Fiction
               Presented by LOTUS – Lila Radziwill
               1930 for 2000 in The Don Hall."
I picked up the F lying on the nylon carpet and tossed it to one of the oily guys. It probably took them until after the event was over to figure out where to put it. We rode the elevator to The Don Hall and got out into a place decked out as if for a Shriners' charity auction; cheap deal tables with four plastic seats around each one; plastic flowers in vases and type-written, hand-folded name cards. Someone waved, most likely at Sam, when I got closer I saw it was the Lady Writer, Tabitha Vanderbilt.