Freshwater Hedonism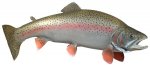 Thu, 28 Mar 2019
'How many languages do you speak, Grimur?'
'Three of them very well.  Faroese, English, Danish.  But I speak also a little fish-Swedish, fish-Norwegian, fish-Icelandic, and even some fish-Gaelic, if you would please believe me.'
'Fish-Gaelic?' laughed Littlewood. 
'Breac,' said Grimur, with pride.  'That's trout.'
'Ah, that's mad that you know.'
'Yes.  And fionnuisce.'
'What's that?'
'You don't know your own language?'
'Not all of it.  Some of it. I know the uisce part.  Water.'
'Yes.  Fionnuisce.  Freshwater.'
'You're a fabulous man, Grimur.'
'I'm pretty sure you are right.  But this is what being a fisherman here on the Faroe Islands provides.  We are right in the middle of the sea but around us we have many countries and many languages so you pick up some words here and there.  As you should.'
Littlewood felt a creeping guilt.  In all his time at sea, in all the ports he'd called at, he hadn't once tried to learn a language.  Not a hum.  But, there you go, he told himself: Gaeilge had made it to the Faroe Islands after all.
 After Halda had retired for the night, the two fishermen sat around for a few more hours discussing good fishing regions and the tastiest fish they ever had and went on to talk of certain cultural differences between them and then the things they shared and on to affairs of commerce and of the heart and then issues of mortality and the existence of heavenly bodies before grounding themselves again and discussing refuelling options and a few other things Grimur might be able to help out with in the morning.  Then bedtime came for them too.  And Grimur showed Littlewood to a small room at the back of the house.  There were many warm and agreeable smells in the Passer home but when the door of the room swung open, a sweet-to-nauseating fragrance hurried to the nose, and Littlewood held his breath, stayed rooted and unmoved in an effort to keep the politeness going.  There was an electrical fizzle when Grimur flicked the switch on the wall.  And a bulb on a string briefly flapped in the air like a hanged man in his final moments; light gradually filled up the room to reveal a forest of potted greenery. 
'Sorry about this, Fergal,' said Grimur.  'This is her flower room.  She's a gardener who never goes outside.  Very stupid.'
'It's okay,' smiled Littlewood.
'I suppose you're wondering where you are going to sleep.  Don't worry.  Follow me.'  And Grimur walked him through the horticulture, and the scent became more bearable as tranquillity prevailed – for Littlewood had never before seen such a mellow and colourful portrait of repose.  If he had been botanically-inclined, he would probably have noticed the juniper bonsai, the weeping fig and white dahlias, the carnations and dutchman's breeches, and the benjamina root; not to mention the ginseng ficus, bloodroots, bugleweeds, and black bamboo.  But he was no florist so he couldn't point at a single one and call it what it was.  Except, that is, until they had waded through all the shrubbery and reached the very back of the room and there on the windowsill he saw a solitary rose in a Persian vase that drooped pouting over a brown mattress on the floor.
'I'm sorry, this is all we have,' said Grimur.  'You may regret now not staying in the hotel with the priests.'
'I don't regret it at all,' smiled Littlewood.  'I'm glad to be shut of them for a while.  Much happier to be your guest.  I prefer to sleep on the floor anyway.  Usually on the hard part.  So this mattress is veritable hedonism in my world.'