Flowers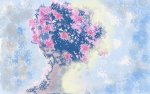 Thu, 18 Apr 2019
He always gave me flowers.
But not in the usual way.
Far be it from Nathan to do anything in a usual, ordinary, everyday manner.
We'd been together about five months when he gave me the tree.  It was a little shrub really, very green, delicate, with leaves that looked spiky but were actually incredibly soft.  It was out of the blue one day, when we were sitting at his table, eating breakfast, planning the day ahead.  And there was something in his eyes when he gave me this, something full of expectation, as if I should understand a significance in it that I didn't.
Well, I thanked him and kissed him, ran my fingers over its leaves and marvelled at how soft they were.
"Plant it in your garden," he told me.
"Yeah," I said, "Dad'll love that."
"Somewhere where he can't see it."  He was serious.
"I… sure… I could…"
"Think of it as something that's ours – yours – in amongst all the things that are theirs.  Think of me when you look it at."
#
So maybe I shouldn't have been surprised a couple of weeks later when he told me he had to go away for a while."
I'd planted the tree, just like he'd asked.  Found a corner beneath one of the south windows, outside my bedroom, and shielded by some overgrown jasmine.  It looked small there, vulnerable, in amongst the wilds of how Dad liked the garden. Beneath the jasmine overhang it wouldn't be noticed, and shouldn't invoke one of Dad's I-have-it-how-I-like-it outbursts.  But I could lean on my windowsill and look directly down on it, thinking of Nathan, just as he'd suggested I do.
"Where?"  I asked him now, and: "How long?"
Nathan shook his head, "Hard to say.  It's a work thing that just came up."
"Just 'off you go'?  'See ya'?"
"Something like that."
"Well, I hope you get paid well."
Nathan rolled his eyes.  "You'd think."  Though in actual fact I was pretty sure he did get paid well, even if I didn't entirely understand the magic he worked with money and how it seemed to make him indispensable to a small coterie of wealthy clients.
"And it's just like that…"
"Sorry.  New York.  In response to your second question."
"Well, I'll miss you," trying to for a light tone, a near-casualness that bore no resemblance to that needy girl that men of all ages want nothing to do with.
#
But I was needy.
I had cause to be needy.  This small house, with all four of us squished in, sharing dirt and space, bickering over the smallest things, and the two of them, eyes narrowing: maybe it's time one or both of you should think about moving out?
No kidding.
If only.
And me telling myself that it'd all shape up for the better.  If I could just find a job, save up for a few months: even a little bedsit flat that I had all to myself would be something.  Sweet and compact and silent.
If only.
Well, Jake had his refuge down at the pub.
Me: I checked my phone once or twice an hour, hungry for even the smallest message from Nathan, biting back temptation to send him something – a love heart, a chuckling little face, a thought that said I'm thinking of you.  But I'd promised myself not to scare this one away.
When he texted me it read:  Did you get my flower?
Huh?
The one I sent you.
You sent me a flower? – a single flower – Just one?  I haven't got it yet.
Have you tried looking out your window?
Sure, I went to the window.  I was expecting something wrapped in cellophane, laid gently on the windowsill or in the garden by a courier's hand.  Instead, one tiny pink carnation growing on little tree I'd planted.
I texted: What?  How?
You like it?
Of course.  But: what?  How?
Sometimes you just have to know a little magic.
Bullshit.  Really, how the fuck did you do that?  Carnations don't even grow on trees.
Do you miss me?
I reflexed the answer before thinking it over: You know I do.
Oops, too needy.
I miss you too.
#
They were at it again.  Mum and Dad.
In the early hours of morning, having carried it over from the late hours of last night.  I felt like a child.  I was twenty-nine that night – there, I've confessed it – living under their roof, sleeping in the single bed, beneath the pink-blossoming duvet that I'd had since I was twelve.  Lumpy and dumpy and faded – it was almost old enough to move out on its own, never mind me.
Mum yelling at Dad: "When are you going to get your shit together?  Like you promised me you would?"
"When I don't have some nagging bitch….!"
"You watch your mouth!"
"Watch my mouth!  I've kept you all these years.  You and those brats.  Three decades of it."
"Well, not anymore. I do my share… I do it all, these days."
"And do you think I'm not trying…?"
"I don't know, are you?  Are you?"
The door slamming. A different refuge. A different pub from the one Jake went to – better if they didn't run into each other, into their mutual shame.
Mum, crying in a chair.  Me, under covers, trying not to let it get to me.  But the tears stinging in my eyes.  Was it going to be like that with me and any man I ended up with?  With Nathan, if it came to that?  His imagined voice: Just a useless waste of space.  I'm tired of supporting you, I'm tired of trying to avoid telling people that you don't do anything.
His voice, half-real in my head, half present in the night.
But I would find a job.  Soon.  Surely.  Me, Dad, Jake: the daytime house too small for all three of us.
#
And Nathan sent flowers.
One morning waking up to find the little tree awash with cherry blossoms.
One day seeing a tall, fluted red flower I couldn't name.
Another day seeing daisies.
A lovely purple thistle-flower minus the thistle.
I wanted to know: What's the trick?
No trick.
Well it must be something.
The right kind of magic.  A little bit of fairy dust.
Well, you know I don't believe in magic.  Or fairies.
Frowny face emoji: Well, you just went and killed some poor little fairy right there.
I was in a rough mood, Dad lurking about the house spoiling for a fight.  Otherwise maybe I wouldn't have texted him back: Yeah, well they had it coming.
#
We'd skype on a Wednesday. 
Nathan was looking good.  His suit jacket swapped for a casual cream jersey, his work trousers still on, his socks in a chequer-pattern.  He showed me the view over New York, and the room service menu, and went through the options on the cable TV channel.  He tilted his laptop so I could see the screen, so he could eat ordered-up doughnuts and I could eat chips at home.  So we could watch the movie together.
"Are you nuts?" I said, "Won't that cost a fortune?"
"Ah, no worries." He tapped his phone, "Unlimited bandwidth."
Strangely romantic.  I felt close to him in spite of the miles.
I wanted to ask him when he was coming home but I didn't dare.
"Did you get my flower?"
"The little daffodil?"
"Yeah."
"Daffodils don't grow on trees, you know."
"Huh.  Don't they?"
#
It seemed they did.  But they were the strangest flowers.  Because when I picked them, they faded so fast.  Not just in colour, not just wilting, but these would turn to fine, coloured dust within hours. I kept the dust, storing it in a round-bellied glass pot. I sat and looked at it sometimes in the fading afternoon sun, noticing how the sun seemed to pick up bright, diamond specks amongst it. 
If I left the flowers on the tree, they would last a full day and then be gone, most usually replaced by another one of a different type. 
"I know you've got a trick." I said.
"Have faith."
"Have faith in what?"
"That things will work out as they're meant to."
#
Things didn't.
Not unless things were meant to be one giant, mismatched clusterfuck that makes everybody everywhere miserable.
At least in this house.
The dishes weren't done.  I supposed I should have done them.  But all three of us were in the house.  Mum came home to this. After a full day at the supermarket.  And she let Dad have it, she screamed at him, she grabbed plastic bags in big handfuls and threw them down on the cracked lino.  "I'm done with you!  I'm done with you!  I'm done with you!" although I don't know if she really knew what she was screaming.
"Fine," said Dad, "I'm done with you too.  I'll pack my fucking bags!"
"And who'll put up with you?  Who'll support you and clean up after you?"
"Not some ugly old hag!"
And he left.
But the poison was deep inside the walls, it stained the floors and ceilings and permeated the air.  Where the shouting had been there was a silence just as potent.  Mum collapsed at the table crying without making a sound.  She flapped me away when I tried to go to her.
Jake just looked at me and said, "About bloody time," and he left the house for his favourite boozy haunt, leaving power and phone bill and rent all to Mum.
#
I've sent you a flower.
How strange really that this ritual didn't fill me with wonder.  The romance of it touched me, and it endeared Nathan to me with a depth I found scary, but the sheer fact of these flowers, growing as they did: somehow I'd absorbed that without the shock it should have conjured.  Something about Nathan…
I went to the window and saw a tiny yellow rose growing on the little tree. I chose to pick this one, but instead of fading to dust, it hardened, turning into shining gold.  I clasped that rose tightly in my palm and went to the front porch, gazing out over the road, willing to wait days or hours to see the brilliant blue of his car coming over the hill. 
I knew this as proof that he was coming home.
I sat against a column overgrown with clematis, watching the sun set, deciding to believe – for now at least – in the possibility of a better tomorrow.
Picture credit/discredit: author's own work.