Book Lovers' Date Night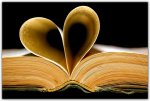 Tue, 25 Jun 2019
Looking for love at the library?
Browse the Mills & Boons and find
Me ready, waiting, anticipating
 Your caress upon my spine.
Take me down from off the shelf.
Turn my pages, come on in.
Just you and me – there's no-one else.
Let the tale of love begin.
Borrow me, take me home.
Glass of wine, forget your troubles,
Candles lit, relax, unwind,
Read me in your bath of bubbles.
Let your imagination free.
All the worries of today
In fantasies of passion gone
In foam and fiction, washed away.
And so to bed, all snuggled up,
Read me through, cover to cover.
Then, take me back: I'm loaned, not owned,
And now am promised to another.