Uriah's Van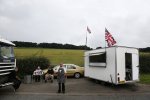 Mon, 16 Sep 2019
We pulled over
on the way back
from nowhere
in particular.
Drawn in
by the remembered
scent of bacon,
salty and smoked.
Someone was finishing
something hot-plated
in a bun, barm, cake or roll
the size of a dustbin lid.
The guy in the van
might have been
a retired wrestler
or loose-head from Cas.
This side of the Pennines,
being a customer
is an invitation
to the conversation.
'You remember Geoff?'
''im what went down for..'
'Ay. E's still inside,
fookin' did it again!'
'E were allus a wrong 'un'
bashed 'is mate's 'ead in
wi' a lump 'ammer,
when we were at school.'
'No, it were a claw 'ammer,
It were a good school
no, really, it were.
Two bacon baps, ta.'
We would have stayed
for more gossip,
but the bacon
might have got cold.