The Scream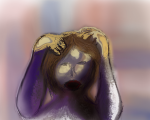 Tue, 26 Nov 2019
1 likes
It's a wonder that none of them can hear me screaming:
Help me, help me, let me out, let me out-out-out-out!
Perhaps it's because the scream is only in my head;
And yet, it booms.
It bounces around my mind, collecting energy and anger,
Rolling desperation into itself like thunder;
And it glows like the sun,
So bright that it must surely come streaming out of my pores,
Oozing, glaring, blinding;
Seeking out the freedom that prickles along its edges,
Beckoning like a silk-gloved finger,
Running its silk fingertip along taunt, taunted, teased skin.
But nobody looks. Nobody stares in amazement.
Nobody covers their ears to ward off that unbearable sound.
And I paper a smile over my mouth,
I paint my face, I braid my hair,
I toss a velvet-tipped braid across my shoulder as I stride through the doors,
To meet the "morning" chorus - head-on.
"How are you doing?"
"Yeah, not so bad."
"Good weekend?"
"Yeah, all right."
"All ready to get stuck into the week?"
-Let me out-out-out-out-out!-
"All good."
I slip quietly into my chair,
I sit quietly behind my desk as the coffee beside me gets cold.
And the scream waits patiently inside me,
Biding its time.
Picture credit/discredit: author's own work