A Slip of the Mother Tongue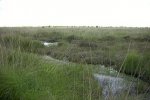 Wed, 04 Dec 2019
1 likes
Dialect of my mother -
burbled from rain-sodden currents in Derry's Foyle,
meltwater brogue of bogs, fairies and goblins,
smoky with bacon, whiskey and cigarettes, drawled around peat fires.
Dredged across Irish Sea into River Mersey.
Windswept, weathered, sing-song notes, tempered
 by fights in wild lands and wilder streets,
tales of long-dead, ever-present Troubles.
A bitter marriage let loose her lips in Liverpool,
riven with gin and tobacco,
her rhythmic cadence
rooted in me.
In Somerset, my guttural sounds evaporate,
easy as mists on the Levels,
flattened like sea-salted marshes,
releasing a twang of mud-soft tones that dip and rise.
This mix of burr and buttercup vowels
amongst cider-thick slang,
slipping through gorse.
sloping orchard's limestone walls.
Still, the marbled north lurks, sedimented,
until a slip of the Mother tongue,
un-snares.
Reveals.