One Night Stand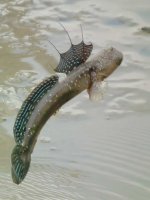 Mon, 17 Feb 2020
We, mudskippers, converged
in the intertidal hours,
better slept through,
being neither night nor morning,
when you leapt out at me,
speckled with turquoise.
With these transient embellishments,
you surged and fanned your fins 
and danced me back to your cathedral
of mud, your bed of seaweed.
Loveless and loosened, 
our lips opened to the anoxic air
of these vaulted chambers,
and after this briefest of courtships,
we parted more strangers
than when we met.
Image from wikimedia commons of a mudskipper in flight. https://commons.m.wikimedia.org/wiki/File:Flying_fish_mudskipper.jpg