break-in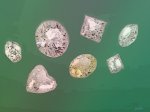 Thu, 27 Feb 2020
You judged me quickly as I stood,
my shoulders bent, my head held low,
my face entrenched in dappled shade.
You looked at me with angry eyes
as I kept quiet, arrested now.
Your phone left all the word unsaid.
You scribbled them onto its screen,
sent them across the clueless sky.
The diamonds sparkled in the raid.
Jail term began. You kept the gun,
left me the locks, the latticed bars,
without your pleading I was done.
You promised me I would be freed,
jump in your car and kick up speed,
and finally we'd tie the knot.
I never saw you back again
and neither found the diamond chain.
You took the lot.
You also took my trust in you,
my pearly beads of confidence
and promises, the wind heard
and forgot.