unbreakable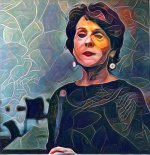 Sun, 01 Mar 2020
She sat with others drinking cups of tea.
It felt at first, as if she held her beaker
a little differently, a little weaker.
And once she smiled, but somewhat fearfully.
When they were ready, leaving for a talk,
she slowly, as by chance, traversed the hallway.
I followed her and hid behind a bouquet
of yellow roses and an ancient clock.
She walked restrained, in ways a person does
who suddenly was asked to sing a song
in front of people, but she tagged along,
her eyes pearlescent like unpolished brass. 
Proceeding slowly it took her a while,
as if she was unsure what was expected
but then, with insight, everything connected
to her ability to act in style.