A very scary character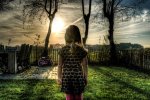 Sat, 07 Mar 2020
1 likes
My next door neighbour
Is a creepy guy,
Avoiding him a must!
I admit I do try!
He lives next door
As quiet as a mouse,
A bachelor from the navy
In a four bedroom house,
'Where are the bodies buried?'
I can't resist to think,
Sometimes I lay awake,
I cannot sleep a wink,
My bedroom and his
Share a dividing wall,
Does he have a hole
To peep through that is small?
For after a shower
I like to air dry,
To think he might be looking
Makes me want to cry!
For I have had enough
Violation in my past,
That imaginary hole
I want to cover fast,
He's leaving his house now,
Is he going starboard or port?
But he doesn't seem to do
Anything of the sort,
He turns and he looks,
And seems about to say,
'I see you watching!'
At the end of his driveway.