Missing Him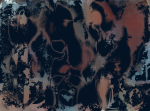 Mon, 12 Apr 2021
1 likes
Miss him?
Of course, I miss him.
If missing him is this hollowed out, gnawing thing in my belly,
If it's this twisting and extracting of entrails,
This bloody mess of wrong things said and regretted thoughts.
If that's missing him,
Then yes, I miss him.
Is it this?
This getting up in the morning to the sunshine,
To seeing it come seeping in through net curtains,
The sounds of cereal pouring into that blue bowl,
Raisins and pumpkins seeds, and sesame seeds, coconut and orange juice
- what's going to sprout and grow inside me? –
- could it fill that empty space? –
The sound of cereal settling as the milk is poured over it,
The pitter-patter of raspberries falling onto the top like rain.
The day that begins like all days do,
And then going outside to get the paper, to water the plants, to put the washing out,
All as if nothing has changed.
Is that missing him?
Is it this wating for the other shoe to fall?
Is it this knowing that there is something out there?
It's too dark and terrible to name,
But it hovers ever-on-the-periphery,
Scratching at the senses that try to fill themselves with sight and sound,
Pressing in on the thoughts that try to turn this way and that to not see it?
This gap filled with horror,
This precipitous impossibility,
This extremity that can't be boxed and labelled and explained?
This knowing where he is and where he isn't?
Not here.
Not thinking and feeling and knowing, not loving, not caring;
Not on the other side of this bed, not sharing a bodily warmth.
No sound in the darkness beside me,
Just the darkness itself with its feathery fingers and unbearable honesty.
Is that missing him?
If it is, I do.
Picture credit: author's own work