The Road Goes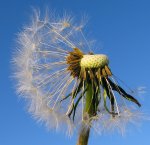 Wed, 12 May 2021
I am glad,
pleased to be on the downward slope,
hope lies on the other side of the hill
the upward, where the eyes on the prize
care not for roadside flowers,
miss the tares and muddy ditches,
in the joy of having a goal.
Though hope is
foolish on the steepening decline,
mine flickers yet, seeing beauty
in the rabbits still in fields,
despite the chemical death
between corn and barley,
in fields regrown at last.
At road's end
the dandelion countdown reads nil,
still I wonder what comes next,
if anything, or will I too
return to earth and dust
and wait for wildflowers to poke
through my bleached bones .