The Value of a Cow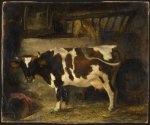 Thu, 10 Jun 2021
Helios knew the value of a cow,
when once the rivers flowed with milk
and men were made of salt, and how
after the ice melted cattle became gods
until greed climbed man like a vine,
to confine them, unhorned, 
soft faces, factories behind fences.
We can measure light 
by lux of luminescence, whilst
the cow wears the sun, follows it
east to west, as an aureole,
before it disappears 
to shine upon the dead.
Her neck tolls a rhapsody of bells,
and being carved from moon and dew,
she is a reader of clouds - the day's length 
for a nimbus to darken, and though 
it does not always seem wise
to look for trouble, she thinks
she will be grateful when it rains.
Image is from here: https://commons.m.wikimedia.org/wiki/File:Eugénie_Dalton_-_Cow_in_a_Stable.jpg