WebWorld (1.2)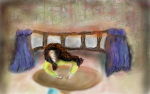 Tue, 06 Jul 2021
2.
So: the apocalypse. You don't expect to be ever actually living through it. You don't think it happens to real people. This happens to characters in stories and movies. It sucks to be them. And then, when it sucks to be you, you just can't get your head around it. Even while you're living right in the middle of it, you don't feel as if it's real. You wait for it to be over, and it dawns on you, little by little, that maybe it isn't going to be over. What if this is the new normal? What if the new normal is actual extinction? Of people. Of humans. The idea is the size of small country, it doesn't fit; but what if?
That's what it was like. Disbelief, stacked upon disbelief, perched precariously on top of what the fuck?!
And just think, six months ago: there was no such thing as Gum.
And six months before that: I'd never even met Zara.
So, let's begin our story where we began: at a little café called Harlequin City.
#
The old me was a 23-year-old man going nowhere in particular. I had something that was nearly a degree, a few papers off, but I'd never quite gotten around to finishing it. Because… then what…? And I'd picked up a couple of minor jobs, one at a local dairy, another processing random data on my computer at home – possibly dodgy, I didn't really ask for details.
And then Harlequin City, which was so rich in charm, full of blue and purple shades, with paint spatter intended to look like stars. And they did these great pancakes, and the good coffee, and a weird semolina-and-orange cake that I couldn't get enough of. And when I walked in there after a shift at the dairy, I noticed Zara, and saw her eating the same cake. And I saw her: this beauty with midnight hair and deep brown eyes, wearing a jaunty little suede jacket, reading a book on her left side, texting on her right.
I'm not usually that guy. I don't go up to a girl and just plant myself down and start talking. So, what made me do it? The cake? That something about her face: the way her concentration flickered between screen and page, seeming to give each one of them her full focus in turn. And yet aware: of her environment, of herself, of me. She looked up as I approached.
"Mind?"
She gestured to an empty chair.
"Good choice," I said of the cake.
She nodded at my identical slice. "A recommendation, then?"
"Yes, actually. I've never seen you here before."
"No. I just moved into the area."
'Where exactly?' would have been a bit too stalkery. I tried: "What prompted it?"
"Eviction."
"Oh. Really?"
"Yeah really. Turns out that funky loft wasn't actually a legal dwelling. The landlord had to throw us out."
"That sucks."
She tilted her head to look at me. "No, I found a nice enough place. It's small, but it's all mine. And I'm being chatted up by some cute guy at a coffee shop right now. That never happened at my last coffee shop."
I had heard that right? Cute?  Which was something of a generous assessment. Roll the dice, I thought to myself, out of my depth but still swimming: "So maybe you'd like someone to show you around a bit?"
"Offering?"
"If you're accepting."
She finally laughed. There was finally that adorable awkwardness that told us both that there was something happening. She rolled her fingers over her face, blushing a little. "Okay, okay, sure, I am. This is a bit weird though? You don't do this all the time?"
"God, no!"
"You're brave."
"Yeah?" Not what I'd expected to hear her say.
"Yeah. I never could have done that. The best I could have managed was to make a few glances your way and hope you took the hint." She put one hand over mine, a strangely intimate moment. "Thank you for being the one to make it happen."
#
We fell fast, me and Zara. It's enough to make a guy believe in soulmates. I want to say that I put in the hard yards, that I worked to bring us about, but the truth is that it was easy. We just kinda fell in step with each other. We had more in common than just a love of citrus-flavoured cake. We both liked watching horror movies, and embarrassingly sappy comedies. We could both flop down on the couch and all-night our way through a movie marathon eating chips and drinking Coke. We liked the same music, and could appreciate the same in weird-wacky art. Zara was tentatively exploring being an artist, just experimenting around the edges of her life with painting and sketching, approaching it with apprehension, as if each brush stroke might presage a grievous error. She wore her heart on her sleeve; she was a little bit hippy, a little bit innocent, a little sophisticated, an idealist, a hedonist, an angel…
What I'm saying, I suppose, is that I fell in love. And I lived in a kind of waking, aching hope that she felt the same way.
We met each other's friends and family, both in real life, and online.
Zara's dad: he was an Einstein-like wild type. And by that, I mean the hair, and the facial hair. Long, wiry hair; mixed with a messy moustache and a wild beard. The first day I saw his face on screen he had Willie-Nelson-style plaits in both the hair and the beard. And he grinned at me as if I were the best thing he'd seen all day.
"Zara gushes about you," he told me frankly, freely. "She says things that right now she's silently begging me not repeat."
"Dad!"
"See."
"I know when my girl's in love."
"I'm sorry… in…?"
"Love."
"We…"
"She still hasn't said it?"
"We…"
"You don't feel the same?"
"Well, of course…"
Zara tilted her head to look at me, all sultry curiosity.
"He set us up," I whined, "and he stole our thunder." Later, with the skype call been and gone, sitting in my flat with the sunset seeping in through the glass.
"That's Dad," she said cheerfully.
"But I do. I mean… what he said…" oh spit it out you bloody wimp, "I do love you."
"Yeah?"
"I was going to come out and say it a bit differently, without your dad getting the jump on me. But I do. I love you. In love with you, in fact," I was mangling the absolute crap out of this.
"And I love you," she said it simply, as if it was the most obvious, ordinary thing in the world, as if of course she loved me, because why wouldn't she? What else in all the world would make sense?
"Well, I don't know why we live at different addresses then," I said, my spectacularly ham-fisted way of asking her to move in with me.
#
Tony helped us move. Tony, her brother. There were oceans between her and the rest of her family. Except Tony, who lived just a couple of suburbs away. She'd met Enid and Lucy by then. I'd been introduced to Mikey, Sally and Thora. She'd had occasion to get to know Ben. All the friends we were to lose in the apocalypse. Most of them came by for the impromptu little flat-warming, where we drank champagne, and we all went up onto the roof to stare over the city and bask in our youth.
There are memories that just stick in your mind. Sometimes for no even real reason. This one was stacked with reasoning: I don't see how any man could have seen her standing there that night, with the sunset painting her hair, and the wind fluttering it back just a little, and not have that image printed on his memory for all time. Her skin was soft and milky, gilded a little by that same sunset, and that dying light was reflected in her eyes as well. Those eyes that had such a faraway look about them, like she was seeing past the view and into the future.
I sidled up to her as the others were drifting back down. "Welcome home," I said, sliding my arm around her waist.
"I hope I'm not going to drive you too nuts."
"No way."
"I may change a couple of little things…"
"Oh, I know."
"Not too much, just-"
"I trust you."
"You don't know what I have planned."
"But I trust you."
"Oh Nate, I'm not sure you know…"
"I know," maybe the champagne was making me all self-confident and smooth, maybe the whiskeys I'd had on top of that, "I do know. You belong down there. And with me. I'm only a little bit drunk, and I mean it," I was afraid for a moment that I had no control of my mouth, and that I was going to blurt out a proposal or something. I wanted to bring myself down, but I really was a little bit high on her, I really did feel as if the world was finally coming together for me, the future was wine and roses, summer and sunshine, "there's you and me, and then there's everything else, and it's only the you and me that even counts." Maybe more than a little drunk.
"To us," she still had a glass in her hand.
"To us then."
Little did we know. Thinking back, playing that evening over and over in my mind: oh so very, very little did we know.
Picture credit/discredit: author's own work