The Condemnation of Darkness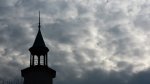 Sun, 10 Oct 2021
1 likes
Hello darkness my old friend
You're here to drive me round the bend
As sultry summers meet their end
You pounce upon my fear and send
Me screaming silently through autumn mist
To dismal depths; a perennial abyss.
Days so short fill me with dread.
It's pointless getting out of bed
When nought but shadows fill my head.
I crave the sun and warmth instead
Of eternal night in Erebus' hole
Where the only light is as black as coal.
I curse our planet's axial tilt,
A fault from which seasons were built.
It makes my mind and body wilt
My mood more sombre as each leaf is spilt
From trees your veil of black mutates,
As each intelligent lifeform hibernates.
Note: The photograph was all my own work, as always, and although I really don't like autumn, I'm not quite as miserable as my words suggest. I was just being poetic.