You asked, we chose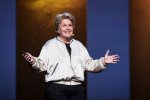 Mon, 18 Oct 2021
1 likes
Prime Ministers' Questions has improved so much
since they replaced politics with Sandi Toksvig.
The doorbell rings. It's the trick or treaters
singing Christmas songs. 
'It saves us from coming round twice,'
the tallest of them explains.
'Homework really starts piling up in December.
If you really want to see something terrifying
have a look at my to-do list.'
At the pub quiz all the questions are about divorce.
'In what year did Mike Baldwin and Deidre Barlow
have an affair?' As we all write down '1983'
the quiz master checks his phone for texts.
We remember when all his questions
were about romance. 'What type of street performer
is featured in the opening scene of Casablanca?'
'In Casablanca what colour dress does Ingrid Bergman
wear when she's in Paris with Humphrey Bogarde?'
'In the film Casablanca who says 'Play It Again Sam?'
No-one, no-one said it, the quiz master explained
with a full head of hair, and went on at length
to tell us other facts that have been incorrectly
remembered throughout history.