Visiting hours 2 – 5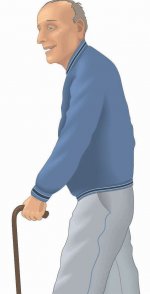 Wed, 10 Nov 2021
She was recovering from a knee op
and was moved to convalesce in the
cottage hospital just down the road.
"Visiting hours 2 –  5"
Oblivious to signs of weariness,
he thought that she would expect him there
from 2 to 5, and appreciate his thoughtfulness.
She had never been able to give
clear hints, nor he to pick them up:
frustration, exasperation rose.
He came home early sometimes, hurt.
So keen for her to return home.
'I'll do that job',
and he would forget.
She, a workaholic would do what
she shouldn't, but couldn't
bear to wait or remind.
'I'm going to my daughter's to stay.
You look after her'
'You take me down.'
Dementia sings creeping in
on top of historic inablity
to see others' point of veiw.
Daugher not asked,
son (chauffer) not asked.
Daughter took at least a couple of weeks
to recover from the confusing bossy visit.
Prepare for old age!
[IP: Remember]