A Funny Old Game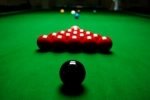 Wed, 01 Dec 2021
3 likes
We hear people saying,
it's a funny old game,
but dedicated fans
do not feel the same.
It's not only to football
that the aphorism applies,
it's also relevant to
other sports. we surmise.
In snooker for instance
they watch each frame
with serious intensity
and thunderous acclaim.
The answer to life
for me and for you,
as Douglas Adams wrote,
might be forty-two
but a snooker player 
will be in seventh heaven
when he reaches the total
one hundred and forty-seven.
The moment that happens
for his supporters it is
the perfect culmination
and the source of pure bliss.
The victor will receive praise
and a great deal of flatter,
for the vanquished opponent
it's no laughing matter.
 
© Luigi Pagano 2021