the seagull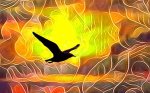 Wed, 29 Dec 2021
2 likes
It was only part white; the seagull
that swooped down on us nearly
brushing us with its wings, but in my head
I saw this ghost of a bird, shadowless,
a white absence, blind negative
in the light of the lake. No reflection glides
over the water where it flies, weightless,
no sound from its beak.
And though you say they look all the same,
for me it is unique. I see
how it speeds out of the distance,
gathers weight and darkens
till it meets its own blackness, grows
into lustre; mew, gull, seagull
that quickens the heart, as it sweeps
towards the sunset, its shape ringed with gold.