Two Generations. Two Fruits.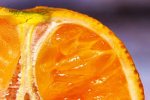 Tue, 11 Jan 2022
1 likes
From last year I have washed an orange and cut it into four and had a swig from my bottle of cod liver oil. The cod liver oil is still in my mouth unswallow, as the orange is ready in my hands. The second that I swallow the juicy seedless orange is in my mouth, to take away the very awful taste. The taste is disgusting, when we were young, we had it most of the time without the luxury of the orange, life was tough for us kids.
Life was more tough for my Mum, she had twelve brothers and sisters, and this morning as I did my ritual, that I love, cutting the wonderful fresh juicy orange on my small white plate, I remembered something my Mum told me many years ago.
I will just go back, to when I was about to cut into my juicy orange, this morning I thought to myself, if when I cut into this orange, I see that it is bad, I will simply throw it into the bin and get another from the pack.
This morning, as I cut into my juicy orange, I remembered a story my Mum told me, "When I was young, I found an apple, I was very hungry and I ate it. As I ate it, I saw it had maggots in, I was SO hungry I had to close my eyes, until I had finished eating it all."
Different generation, different times, one fruit for Life, one for Pleasure.