The Days Between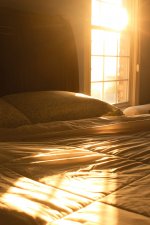 Sun, 17 Apr 2022
1 likes
I reach across the pillow bare 
and caress you with my thigh
and upon your lips,
I gently bite
and breathe your hungry sigh. 
You pull me close,
hip to hip,
my body is in song, 
a hallucinatory return to where I still belong. 
We are a skein of tangled feelings,
traversing time and space, 
incantatory memories rouse us  
as we begin to move apace. 
The remembering of your fingers,  
the deftness of your hand, 
my body still your conquest, 
you raise your flag upon my land. 
You say you feel my heart in yours
and my blush betrays my thrill  
to taste again the salt and slick  
of your urgent, hungry will. 
As we rise to meet the moment, 
you place your head on mine, 
we move together silently  
in defiance of our crime. 
The treacherous dawn sun rises, 
your scent begins to fade, 
and cling to your embrace. 
The light leaks through the curtains 
and draws me from your grasp, 
I wake in painful longing, 
I gasp. 
I lie alone in reverie
until I hear the pad of children's feet,
and the fragments of our union roam
beyond my aching reach. 
I rise and smooth the linen,  
and I begin again the counting  
of the lonely days between.