The Tall Bookcase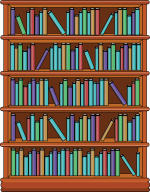 Sun, 05 Mar 2023
2 likes
The removal men
shook their heads.
'It is much too tall',
they instantly said.
The bookcase's height
was eight-foot-four
while six-foot-six high
was the room's door.
'It will not go through'.
they said and sighed.
'But it went in alright',
I promptly replied.
'There was no problem
the day we bought it;
went smoothly through 
and was a perfect fit.'
My neighbour observed
the bookcase was slim,
(the width just 18 inches)
so it was thanks to him
that the removal men
realised they hadn't tried
to move that furniture
by turning it on its side.
© Luigi Pagano 2023