Patrick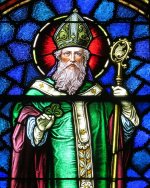 Sat, 18 Mar 2023
1 likes
When one takes part
in a pub quiz
it helps considerably
if you are a whizz.
We had a question
about religion
about which I know
only a tiny smidgen.
I said that Patrick
is an Irish saint
but I was told
"Oh no, he ain't!"
Born in Roman Britain,
he was held in captivity
in Ireland and had
a sinful proclivity.
He was destined
for hell and damnation;
he said as much
in his Declaration.
But in the end
he saw the light
to his followers
greatest delight.
He became holy
and from then on
he was venerated
as an Irish icon.
© Luigi Pagano 2023