That Bloody Woman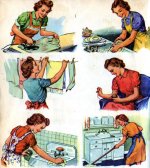 Mon, 05 Dec 2016
"Penny for your thoughts" 
he asked with narrow eyed suspicion,
watched her skinny frame, dither... irritatingly serve his dinner.
He knew the answer was a hot potato,
but he liked to see her squirm, 
liked to provoke.
He knew what to fire back,
to give himself a scapegoat;
You made me do it, 
you asked for it, 
I was drunk, didn't know what I was doing.
Not a violent man.
She provoked him.
Like now.
Making him want to pound his fist
into her soft, useless throat,
feel the squelch of skin, a tendon twang, giving in.
He clenched his teeth, 
waiting...
Her pause added insult to injury,
riling him - when he was already seething.
He would have dropped it at the drop of a hat,
had the cow not put him off his game.
He had an axe to grind and he'd not be put to shame...
not by a woman anyway.
He forked in pie,
yellow teeth gnashing at it 
slammed a hand down heavily,
"This is disgusting!" He barked 
by way of a review,
spit and pie, flying lumps,
landing on her well pressed scrubs,
she never argued.
"Women should be kept on a tight leash"
his father had told him as a boy.
Pops - a big man with a quick hand,
man of few pleasures and less joy.
Those were the days.
Women did as they were told,
out of sight, 
not galavanting round,
doing whatever the hell they liked.
He rose from his chair,
fixed her with a look,
veins protruding, sweating, 
clenched fists shook.
He spat tirade of barely controlled rage, 
a tsunami of ignorant idioms and abusive clichés. 
He raised his hand to show her,
to demonstrate his power...
then dropped.
Face contorted grotesquely,
writhing in agony,
clutching burning abdomen.
Caught sight of her delicate mouth, 
in the pause "O".
her blue eyes wide, 
bruise fading -
the woman who walked into doors.
She waited til' he stilled,
anxious excitement 
shimmered on pale face
and with delicate grace,
carefully held his wrist 
in baggy yellow marigolds,
listening for the sound of a breath,
satisfied when there was no more.
Wiped up the mess and 
sang sweetly to herself 
as she mopped the floor.