Mental Cruelty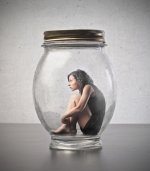 Wed, 14 Oct 2015
Mental Cruelty
With head held high,
a smile upon her face,
acquaintances embrace;
"we're all well, yes keeping busy, 
jobs going fine and you etc?" 
She became accustomed 
to getting on and ignoring 
the gnawing, griping pain,
tying up her stomach in knots,
face flushed hot with worry,
fear carefully hidden 
by makeup mask
and practiced expression 
of blank calm.
No blood or bruises
mark the skin 
to indicate the bullying within,
behind closed doors, 
away from prying eyes.
He holds her hand and talks 
and laughs to friends, makes jokes -
"what a great guy, always ready 
to jump in and help wherever he can.
Hardworking, family man".
Yet all the while, 
the smile she hides behind, 
that shrouds the pain, 
is slipping;
gradually revealing she's drowning.
But people look on,
tut and roll their eyes 
at the silly, hormonal woman 
making a fuss,
until at last, grip lost...
she slips below the surface of despair
into icy waters of depths unknown.
Consumed, finished and gone. 
"What went wrong?" 
they say, "what a shame!"
Without a thought 
that all along 
they had ignored 
her cries for help 
and just moved on.