Where wild water flows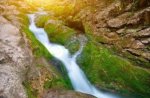 Sun, 03 May 2015
1 likes
Love is like a babbling brook 
Or sparkling stream
Springing forth from
Cracks in mountainsides
Though soft and gentle, 
Flows caressing paths
But cuts through
Flint as hard as steel.
No one questions 
The water pure.
Why or how or 
From where it flows 
But accepts it.
Pure and unsullied
Refreshing parched lips 
And weary soul
No one really feels the need 
To stop beyond 
Brief admiration
Or quenched necessity
It flows, it's there, that's enough
For you, for me
It's all we need
Accept what we have...
Pure untainted love
To refresh parched soul
And weary heart.
I flow