If I Could Forget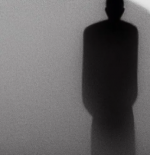 Mon, 12 Sep 2022
1 likes
I do not remember you. And yet I continue
To outline the space
That delineates the place
Where you should be.
The shape is precise yet brittle,
Like madness, like love.
I cannot encompass it
My fickle hands slip
Yet still I seek what was there.
But if I could envision you,
If the static cleared and I saw through
Then would the loss be less?
When I trace the place where you should be
I bleed.
Oh, but not enough.
Not ever enough to remember, and yet
Too much to forget.
Image created using NightCafe Creator.